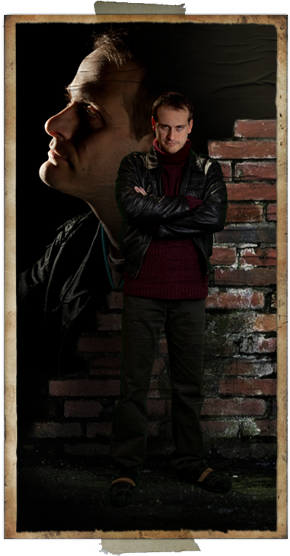 (Version française en bas de page)
Gilles Nuytens [Pronounce:

] is a multi-talented artist, possessing a keen passion for cinema. His career especially encompasses acting. He is also a writer with a background in comic-strips, scriptwriting and computer graphics. On the side, Gilles is also an avid photographer.
His birth on March 17th, just 2 months before the first screening of Star Wars, may be interpreted as a sign of a future passion for cinema and specially science-fiction, for Star Wars is probably his favourite movie ever (as well as for many people in the world). This day (Irish National Day) is also associated with the Leprechaun, a mythical male creature supposed to bring luck and wealth…
With a passionate and curious nature, Gilles has spent his life observing the world around him, allowing him to develop a critic sense and a vision of the world often misunderstood by others. From an early age, he showed interest in art, especially by creating comic strips. He made-up hare-brained worlds where his characters evolved, and this allowed him to develop his creative imagination. His teachers noticed he had some potential and they made him pass a class!
By age 18, he starts to study comic strips at Institut St Luc in Brussels, and this leds him to deepen his artistic knowledge through scriptwriting, photography and illustration. He bought his first computer and despite his inexperienced skills with these machines, he decided to pursue his studies with web-design classes. It was a good choice. He ended up winning the first prize in a contest, and then went on to be hired by a web-design company to not only design websites, but also train adults and kids.
As a teenager, Gilles' dream was to become an actor. To be able to come closer to his passion, he creates a website, "The Scifi World" where he publishes all his artwork related to science-fiction. He decides to go further by contacting movie business people, actors and directors. He is quickly spotted by the highest ranked website about "Stargate", and they ask him to completely redo their website. And even more, he is invited on the sets!
Later on, his works attracted the attention of Holly, who is the representative of many known actors, and that's how he started working with her on the websites of her clients, which makes at this present day more than 20!
He developed an interest for scriptwriting and trains to deepen his knowledge of the field. He begins writing different things but the most successfully completed scenario is a short science fiction film called "Harmless", that he co -wrote with his friend Eric. He also tries still photography and continues to practise it sometimes on various film projects, but this is more of a hobby than a full time job.
Gilles decides then to take the bull by horns and to do what he always wanted to do: become an actor! The beginning is difficult because they only offer him extra's parts, but this allows him to start at the bottom of the ladder and climb up step by step! He got his first true role in a web series "CoMik TV". Later, he got more small roles in short films such as "Zombie Clash", "Legacy Of Time" and "Bad Gamble". But, with the feature-length film "8 Hours", which he co-produced and co wrote the screenplay, he finally got a true role in a movie.
Now launched, he works to write and direct his own short movies!


Download the French/English PDF version here!
Téléchargez la version française/anglaise au format PDF ici!